Cheapest decoders/shims from pocket measuring tape
Tools used
Some type of pry tool(Anything to get it open)

Small flat blade screwdriver (1/4" or less)
Handle of a slim lockpick

Careful use of a hammer might work too :)

Some type of cutter for the steel(Much easier than filing everything!)

Kitchen Shears
Side Cutters
Dremel

Some type of holder for the flexible steel(Prevent cuts while shaping)

Bench Vise
Vise Grips

Pair of Pliers

Some type of smoother for the steel

Diamond Files
Sandpaper
Sharpening Stone

The work begins
This is the cheapest pocket tape measure I could find on amazon, at $2.32 including tax and shipping. (This exact listing is gone, but there is always a new cheapest)
It took a month to arrive, but only 2 seconds to pop it open! (This plastic is very soft)
Stuck a flat blade screwdriver into the slot the tape comes out of and the keyring opening, just a little wiggle got it apart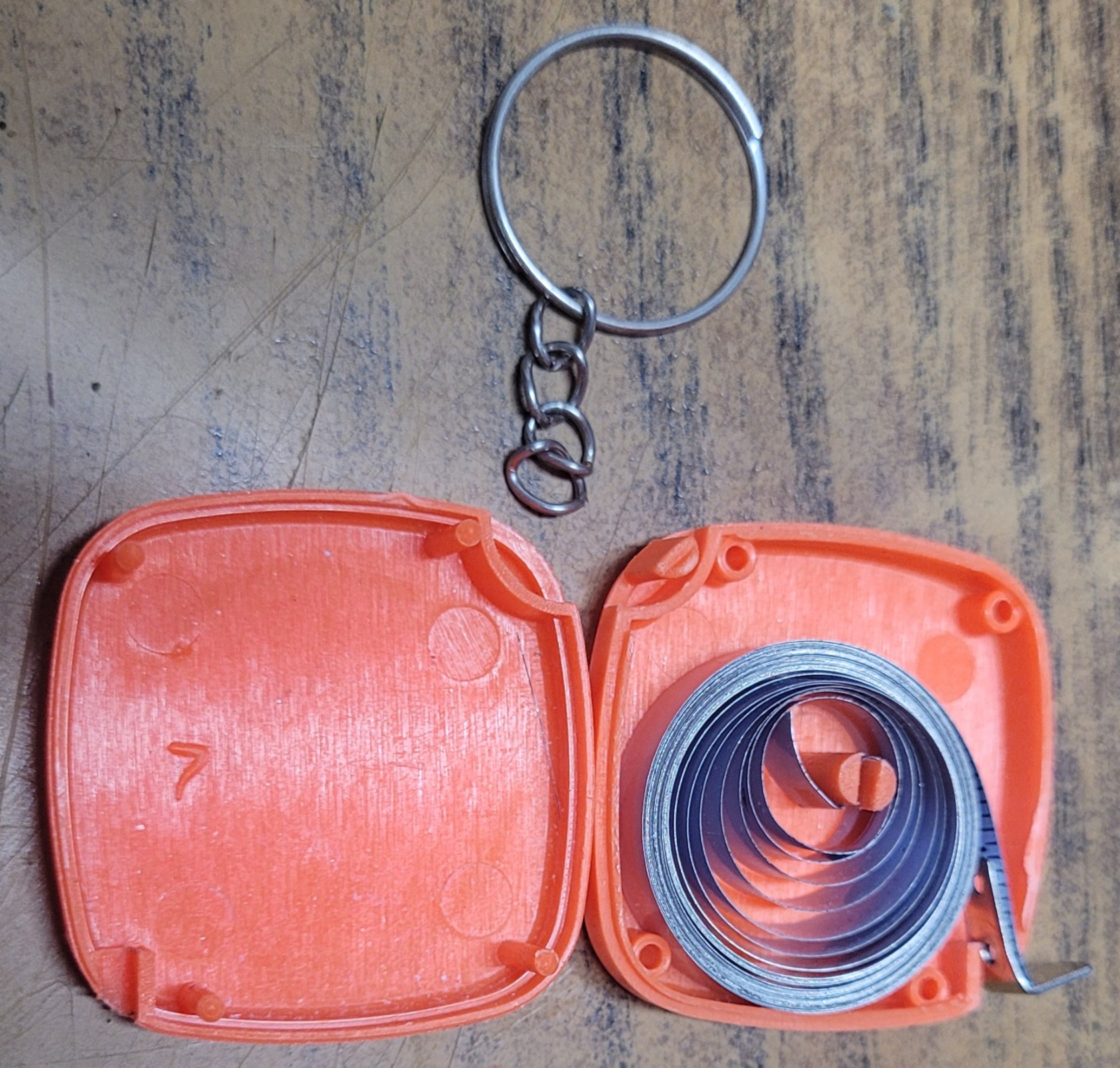 I used a cheap pair of flush cutters to chop off the tightest curled part (at less than $3 for the whole tape, it wasn't worth the extra effort to straighten)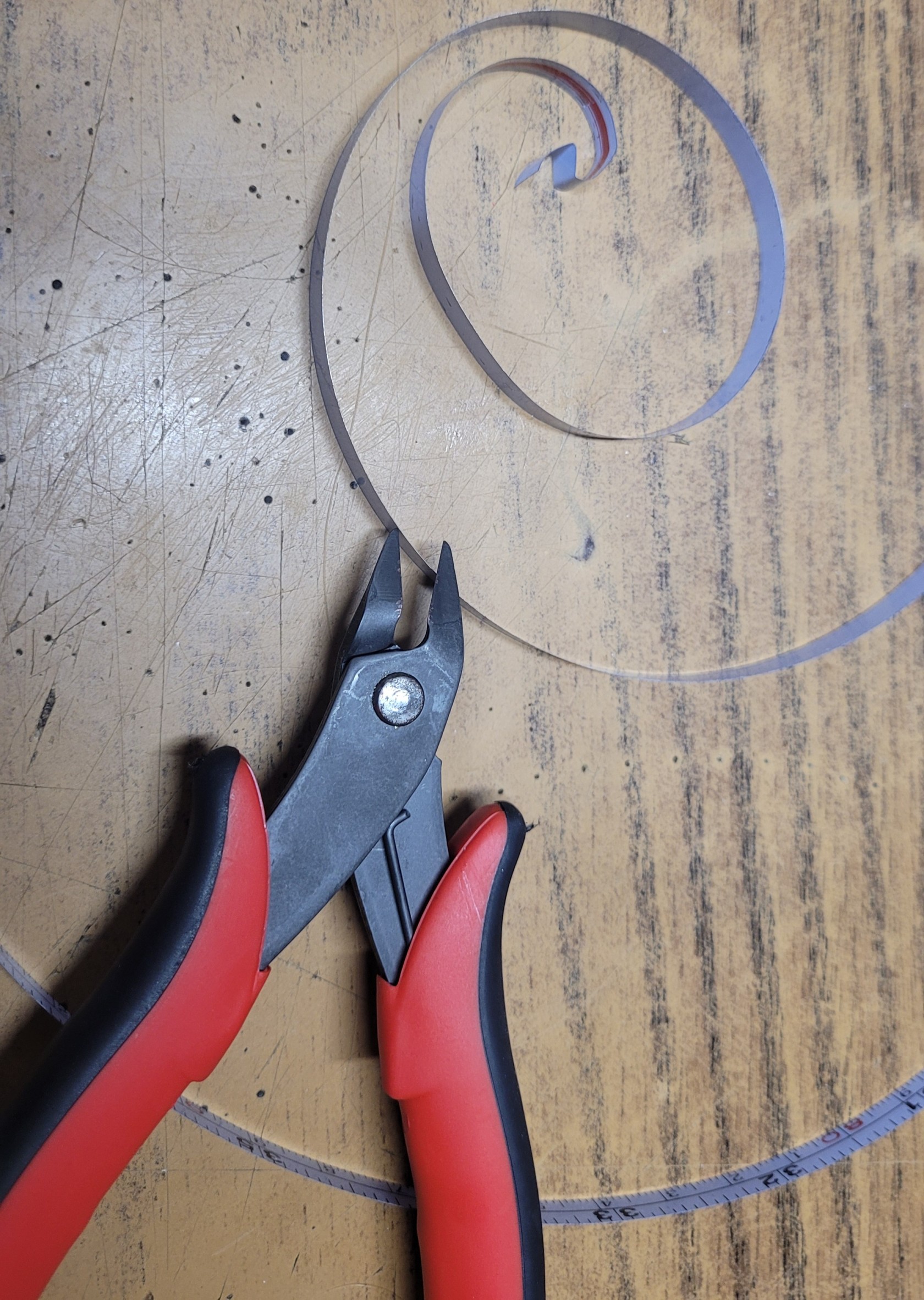 Butchering the tip to make a slimmer end was a ton more trouble than expected... Since the metal tape is hardened, it tends to break rather than cut with these cutters (Lesson - kitchen shears or tin snips work way better!)
In the end I used the kitchen shears to cut an angle on the other end, and a cheap diamond file to smooth out the edges and burrs (sandpaper is great too!)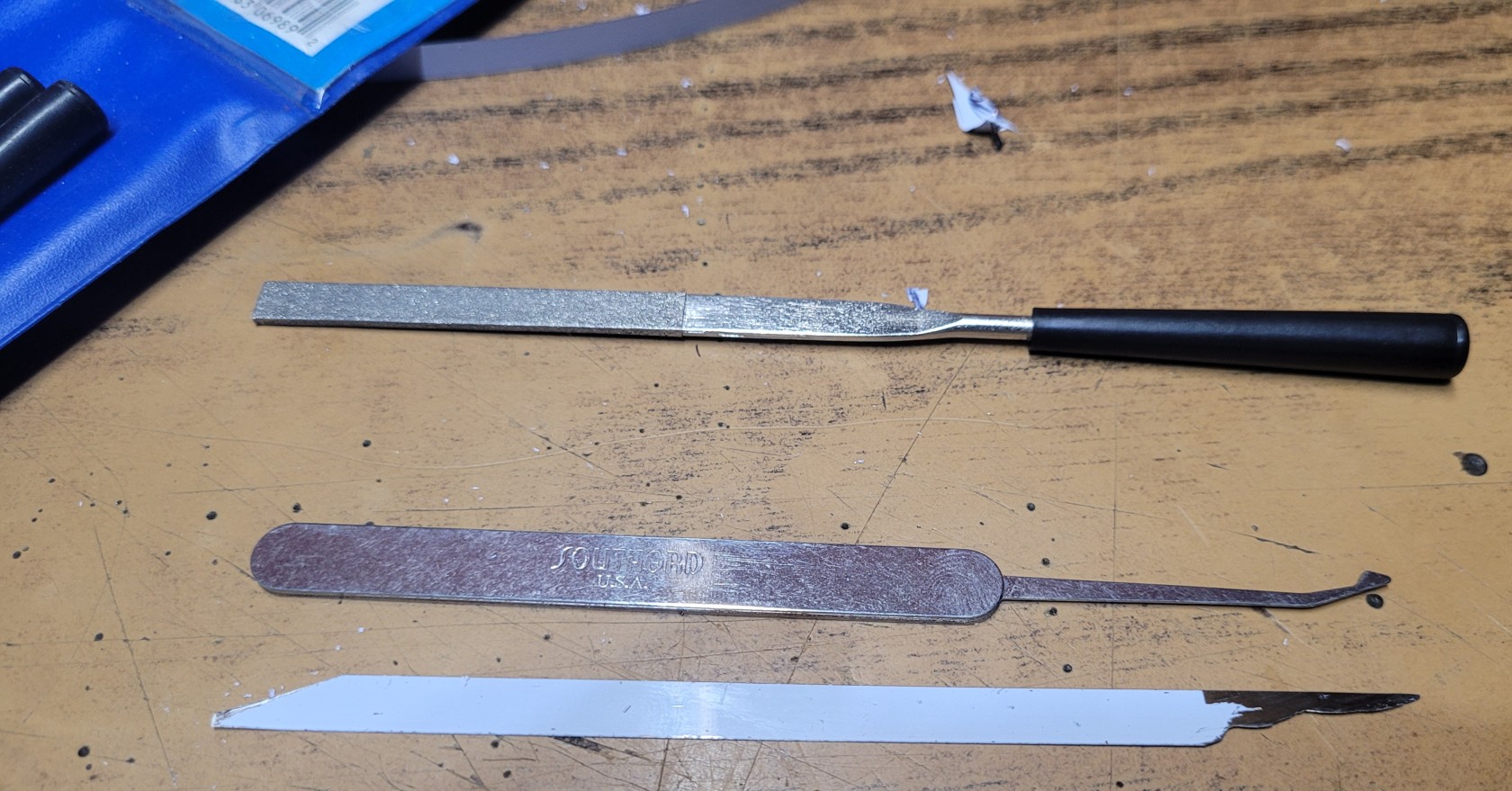 Leaving the paint (or powder coat) on the tape it measures 0.0035" (or 35 ten-thousandths of an inch, or 0.089mm, or 89 microns thick), and when I scrapped the coating off it measured an even 0.003" (or 3 thousandths of an inch, or 0.076mm, or 76 microns).  This size is very thin and great for the more delicate tasks (decoding mostly), but less good for the harsher tasks. (bypassing master 175s)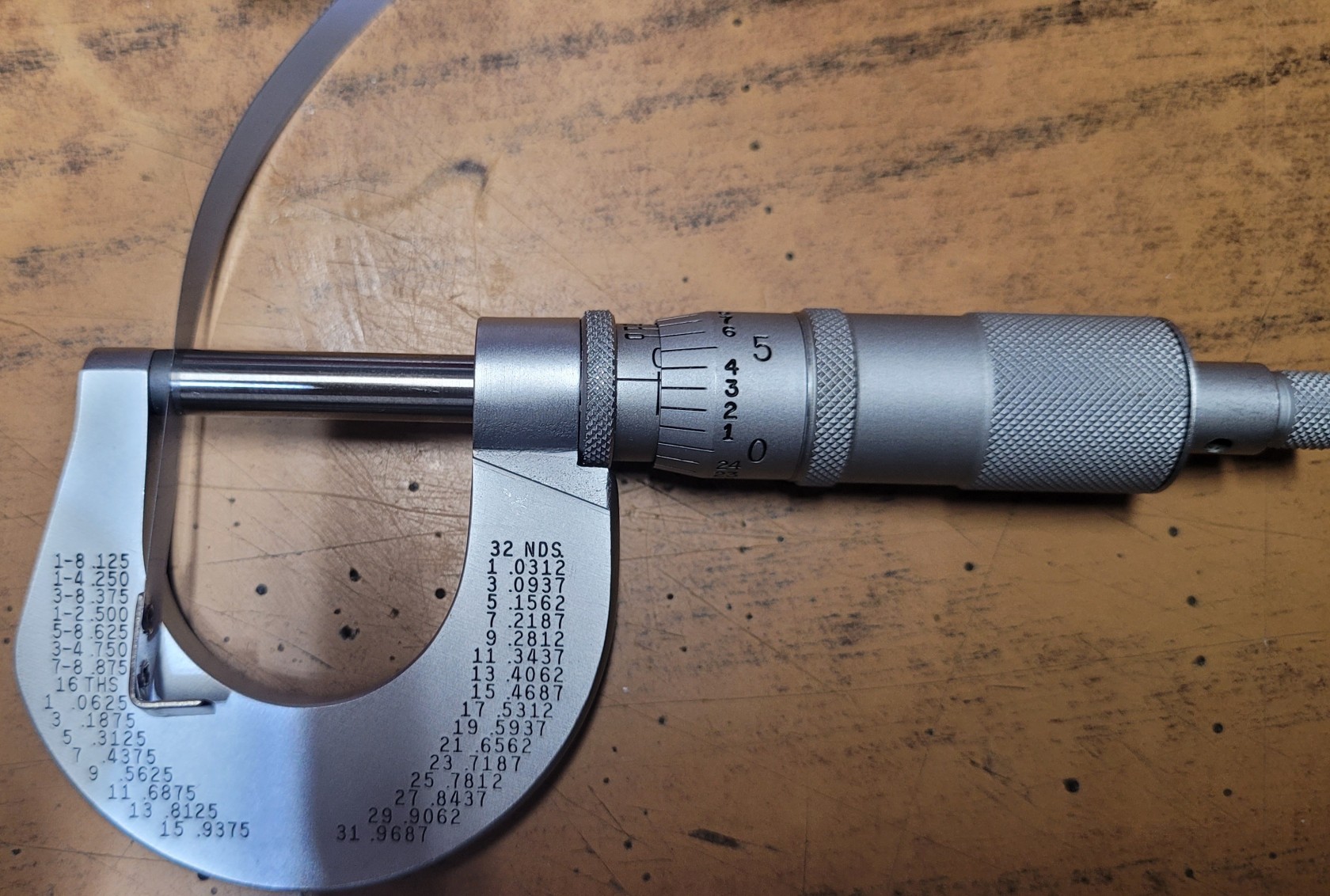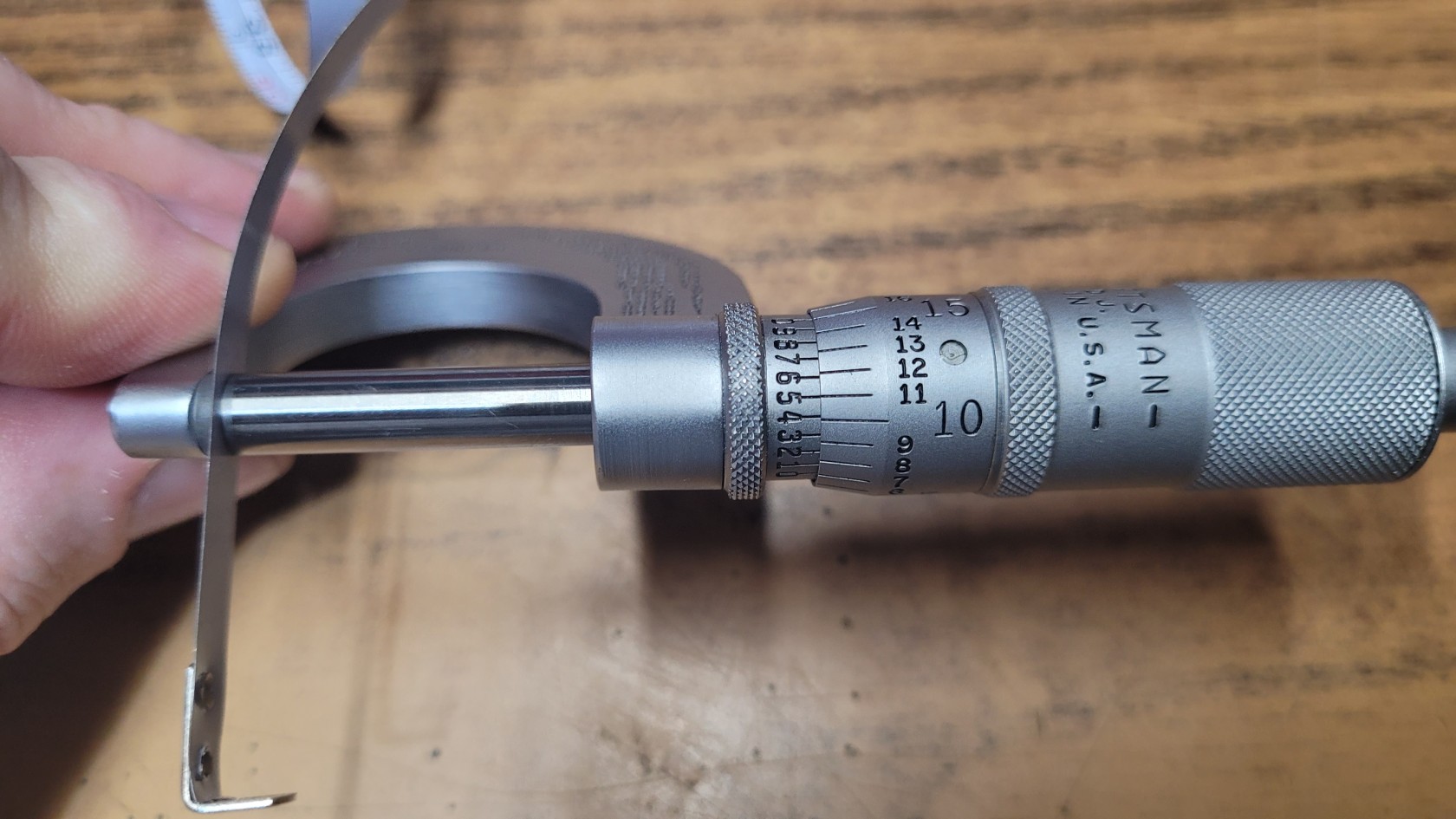 I will see about picking up one of the more expensive (~$10) pocket tape measures, since they usually have a slightly thicker spring attached to the thinner tape measure (to make the readable part replaceable).  Others I have cannibalized in the past, had the spring and tape both, which provides us with two different materials each with different thickness.
All that being said, even after trashing the coil in the center(maybe 2-3 more), we ended up with 8 full pick length decoders(4.75" long & 0.0035" thick) for $2.32!
---
Round Two!
This time I picked up the Stanley brand 3 foot long keychain tape measure for around $7.00. https://www.amazon.com/Stanley-39-130-4-Inch-PowerLock-Tape/dp/B00002X2HB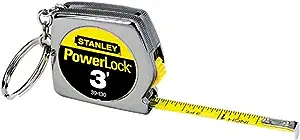 I used a number 1 Philips screwdriver on the only screw holding it together, but wrapped it in a tea towel before opening the case...so I don't loose an eye!  This spring is thicker than the cheaper tape from above, coming in at 0.0042" (or 42 ten-thousandths of an inch, or 0.107mm, or 107 microns thick).  The tape itself is also thicker at 0.006" (or 6 thousandths of an inch, or 0.152mm, or 152 microns thick) with the powder coating left in place, and once again, scraping the paint/coating from the tape only takes the thickness down to 0.0055" (or 55 ten-thousandths of an inch, or 0.14mm, or 14 microns thick).
The decoders made from both the spring and the tape materials on this tool, are of similar thickness to popular commercially available decoders.  The spring part works great to open those Master 175 combination padlocks as well as other heavy shimming and decoding tasks.
---
Conclusion
This exploration turned out to be a great win; all of the materials were usable!
The total cost is up to about $10 USD for 23 full size ~4.75"(121mm) shims or decoders ranging from .003"(.08mm) to .006"(.15mm) in thickness:
Stanley Tape - 8x - .006"(.15mm) w coating / .0055"(.14mm) bare metal
Stanley Spring - 7x - .0042"(.11mm) bare metal
Cheapo Tape/Spring - 8x - .0035"(.089mm) w coating / 0.003"(.08mm) bare metal
There could be some variation in the material thicknesses found in these specific tapes as time progresses, but it is well worth the meager investment to try more than one tape if the first one doesn't meet the requirements.  More expensive tapes are more likely to have thicker materials while the cheapo tapes will be as thin and cheap as they can functionally be made.
---